Basic Italian Tomato Sauce
By
Paula Deen
JUMP TO RECIPE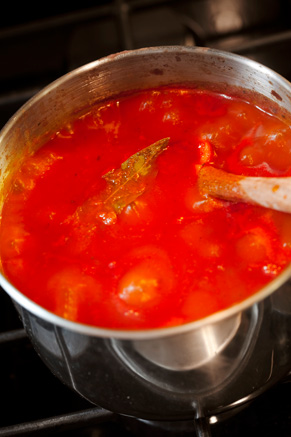 Difficulty: Easy
Prep time: 20 minutes
Cook time: 1 to 2 hours
Servings: 10
Ingredients
1/2 cup extra virgin olive oil
1 chopped onion
4 cloves minced garlic
2 large chopped fine carrots
1 (35 oz) can Italian peeled tomatoes with basil leaves
2 bay leaves
1/2 stick room temperature unsalted butter
1/2 (12 oz) jar roughly chopped roasted red bell peppers
to taste salt
to taste pepper
Directions
To your sauté pan over medium heat, add the olive oil. Add onion and garlic, sautéing until translucent-just a few minutes. Be careful not to burn your garlic. Add in chopped carrots & season with salt & pepper. Stir together and continue to sauté until carrots are tender. About 10 minutes (this will depend on the size of your carrots).
Stir in tomatoes (including sauce). Crush tomatoes gently with the back of your wooden spoon. Stir together. Add chopped roasted red bell peppers and bay leaves and half of your butter. Stir together. Taste your sauce for seasoning and add salt if necessary. Reduce your heat to low, place the lid on and allow it to simmer for at least an hour until it thickens monitoring it along the way for liquid levels. To do this, take your empty tomato can and fill it about half way with water and place it nearby your pot. When your sauce cooks down and needs more liquid add a little bit of water. Add 3/4 cup of water at a time. Repeat this process until your sauce is fully cooked. This will take 1-2 hours simmering over low heat.
Once the sauce is complete, add in the remaining butter, stir & taste for seasoning. Add salt if necessary. Remove and discard the bay leaves. Take 1/2 of your sauce & put into food processor (or blender) & pulse until it's at your desired consistency. Repeat with remaining sauce. This recipe makes quite a lot of sauce. Tip: you can freeze the rest of the sauce that you don'€™t use.
This sauce pairs perfectly with any pasta or as the base for your favorite pizza!