Garlic Cheese Biscuits
By
Paula Deen
JUMP TO RECIPE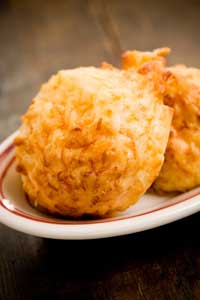 Difficulty: Easy
Prep time: 10 minutes
Cook time: 10 minutes
Servings: 10
Ingredients
1 1/4 cups Paula Deen's Biscuit Mix
1/2 cup water
1/2 cup grated sharp cheddar cheese
1/2 stick melted butter
1/4 teaspoon garlic powder
1/4 teaspoon salt
1/8 teaspoon dried parsley flakes
Directions
Preheat the oven to 400 °F.
Line a baking sheet with parchment paper.
Combine the biscuit mix and cheese in a small bowl. Add water and stir just until combined. The dough will be slightly moist.
Drop the dough by tablespoonfuls onto the prepared baking sheet. Bake for about 10 minutes, until firm and beginning to brown.
While the biscuits are baking, make the garlic butter.
In a small bowl, combine the butter, garlic powder, salt and parsley flakes. Mix well.
As soon as you bring the biscuits from the oven, brush them with garlic butter, using a pastry brush. Makes about 12 small biscuits.