Stuffed Breakfast Biscuit Sandwiches
By
Paula Deen
JUMP TO RECIPE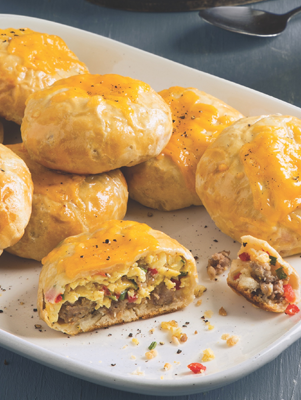 Featured in:
Cooking with Paula Deen Magazine
Difficulty: Easy
Prep time: 20 minutes
Cook time: 30 minutes
Servings: 8
Ingredients
1 tablespoon unsalted butter
¾ pound ground pork sausage
6 eggs, divided
½ teaspoon Kosher salt
½ teaspoon garlic powder
¼ teaspoon ground black pepper, plush more for garnish
1 (4-ounce) jar diced pimientos, drained
¼ cup chopped green onion
1 (16.3-ounce) package refrigerated buttermilk biscuits
1 cup shredded extra-sharp cheddar cheese, divided
Directions
In a large nonstick skillet, melt butter over medium heat. Add sausage; cook until browned and crumbly. Remove sausage using a slotted spoon, and transfer to a medium bowl, reserving drippings in skillet.
In a large bowl, whisk together 5 eggs, salt, garlic powder, and black pepper. Add egg mixture to skillet; cook, stirring frequently, until eggs are firm but still moist, 1½ to 2 minutes. Remove from heat; stir in pimientos and green onion. Gently stir egg mixture into sausage; let cool for 20 minutes.
Preheat oven to 350˚F. Line a large rimmed baking sheet with parchment paper.
On a lightly floured surface, roll each biscuit into a 6-inch circle; place on prepared pan. Divide ½ cup cheese among biscuits; top each with egg mixture. For each biscuit, carefully pull up 2 opposite sides of dough, pinching together above filling. Repeat on opposite sides, pinching seams; place, seam side down, on pan.
In a small bowl, beat remaining egg; brush onto biscuits.
Bake for 12 minutes. Sprinkle remaining ½ cup cheese onto biscuits, and garnish with pepper, if desired. Bake until golden brown and cheese is melted, 6 to 8 minutes more. Let cool on pan for 5 minutes; serve immediately.