Brunch Stuffed Peppers
By
Paula Deen
JUMP TO RECIPE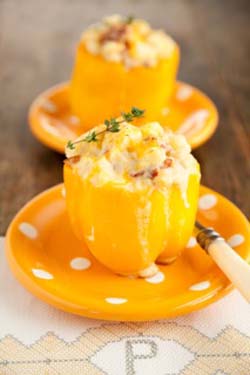 Difficulty: Easy
Prep time: 10 minutes
Cook time: 10 minutes
Servings: 10
Ingredients
4 yellow bell peppers
1 cup thawed frozen country style hash browns
1/2 (16 oz) package cooked and crumbled bacon
3 large eggs
3/4 cup shredded plus more for garnish cheddar-monterey Jack cheese blend
3/4 cup whole milk
1/2 cup biscuit mix
1/4 cup sour cream
2 tablespoons chopped green onion
1/2 teaspoon salt
1/4 teaspoon black pepper
Directions
Preheat oven to 350 °F.
Remove the top 1/2-inch of each pepper. Discard the tops and seeds. Arrange the peppers, cut side up, in an 8 by 8-inch glass baking dish. Fill the bottom of each pepper evenly with hash browns and bacon.
In a large bowl, combine the eggs, cheese, milk, baking mix, sour cream, green onion, salt and pepper. Whisk until combined. Evenly distribute the egg mixture into each pepper. Bake until a wooden pick inserted in center comes out dry, about 45 minutes. Remove from the oven, garnish with cheese and serve immediately.