The Lady and Sons Cheese Biscuits
By
Paula Deen
JUMP TO RECIPE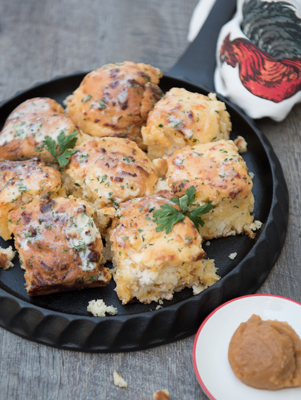 Difficulty: Easy
Prep time: 10 minutes
Cook time: 10 minutes
Servings: 10
Ingredients
1/2 cup shredded Monterey Jack cheese
1 cup shredded cheddar cheese
4 cups biscuit mix
2 cups milk
salt
ground black pepper
1/2 stick melted butter
1/4 teaspoon garlic powder
Directions
Preheat the oven to 375 °F. Spray a baking sheet with nonstick cooking spray.
To a large bowl, add the cheese. Add the biscuit mix and gradually add the milk. Stir together until desired consistency is reached. Add salt and pepper, to taste. Scoop the batter with an ice cream scoop and drop onto the prepared baking sheet. Brush the biscuits with garlic butter. Bake for 12 to 15 minutes. Brush the biscuits with more garlic butter when they come out of the oven.
Garlic Butter:
In a bowl mix together the butter and garlic.