Lots O'Meat Lasagna
By
Paula Deen
JUMP TO RECIPE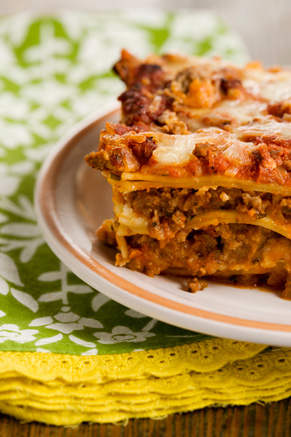 Difficulty: Medium
Prep time: 15 minutes
Cook time: 15 minutes
Servings: 15
Ingredients
1 1/2 lbs ground chuck
1 lb ground Italian sausage
1 onion
2 cloves minced garlic
2 teaspoons ground oregano
1 teaspoon ground basil
1/4 teaspoon salt
1/4 teaspoon pepper
1 (14.5 oz) can diced tomatoes with basil, garlic and oregano
2 (15 oz) cans tomato sauce
1 (6 oz) can tomato paste
1 1/2 cups small curd cottage cheese
1 (5 oz) package grated Parmigiano-Reggiano cheese
2 tablespoons chopped fresh parsley
2 large lightly beaten eggs
9 oven ready lasagna noodles
2 (8 oz) packages shredded mozzarella cheese
Directions
Preheat oven to 350 °F.
In a large saucepan, combine ground chuck, sausage onion and garlic. Cook over medium heat until meat is browned and crumbled; drain.
Return meat to pan and add oregano, basil, salt and pepper. Add tomatoes, tomato sauce and paste. Bring to a boil, reduce heat and simmer 30 to 45 minutes.
In a small bowl, combine cottage cheese, Parmesan, parsley, and eggs.
Spoon 1/4 of sauce into bottom of a 13 by 9 by 2-inch baking pan. Place 3 uncooked lasagna noodles on top of sauce. Do not overlap noodles. Spread 1/3 of cottage cheese mixture over noodles, top with 1/4 of sauce and 1/3 mozzarella cheese. Repeat layers, ending with sauce, reserving 1/3 of mozzarella cheese.
Bake 45 minutes. Top with remaining cheese and bake 15 minutes or until hot and bubbly. Let rest 10 minutes before serving.