Barbecue Meatloaf
By
Paula Deen
JUMP TO RECIPE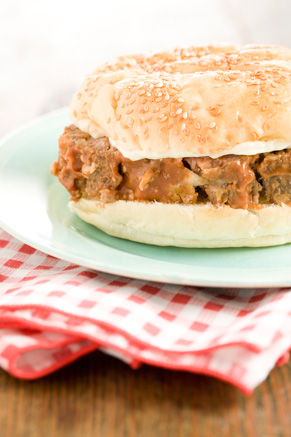 Difficulty: Easy
Prep time: 10 minutes
Cook time: 60 minutes
Servings: 6
Ingredients
1 1/2 lbs ground beef
1 cup fresh breadcrumbs
1 diced onion
1 lightly beaten egg
1 1/2 teaspoon salt
1/2 teaspoon pepper
2 8-ounce cans tomato sauce
1/2 cup to thin sauce if necessary water
3 tablespoon vinegar
3 tablespoon brown sugar
2 tablespoon dijon mustard
2 tablespoon Worcestershire sauce
Directions
Preheat oven to 350 degrees.
Mix together the beef, breadcrumbs, onion, egg, salt, pepper, and 1/2 cup of the tomato sauce. Form this mixture into a loaf and place it in a shallow pan. Stir together the remaining tomato sauce, vinegar, sugar, mustard, Worcestershire and the water (if too thick). Pour this sauce over the meatloaf. Bake for 1 hour, basting every 15 minutes with the pan juices.
Cook's Note: Try serving as a sandwich with mayonnaise.