Balsamic Roasted Onions
By
Deen Brothers
JUMP TO RECIPE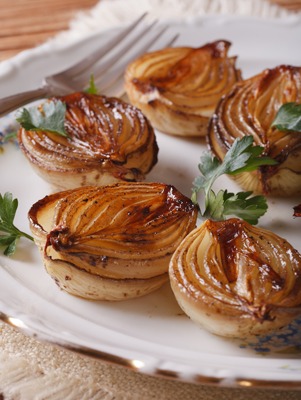 Difficulty: Easy
Prep time: 10 min
Cook time: 35 min
Servings: 4 servings
Ingredients
2 large Vidalia onions
Olive oil
2 clove s garlic
1/4 cup chicken stock
1/4 cup balsamic vinegar
1 teaspoon chopped thyme
1 teaspoon chopped rosemary
2 tablespoons butter
Kosher salt and freshly ground black pepper
Directions
Pre-heat oven to 350 degrees F.
Add olive oil to a large skillet over medium heat. Once hot, add the onions to the pan and lay them flat on their sides. Cook on each side for 3 to 4 minutes, or until browned, being careful as you flip them. Add chicken stock, balsamic vinegar, garlic, rosemary, and thyme to the pan. Add dots of butter around the pan. Turn the onions in the liquid so they are nice and coated.
Place the skillet in the oven and roast for 25 minutes, stirring on occasion so the onions don't stick to the pan. Roast until the onions are nice and soft and the balsamic is caramelized.