Chopped and Grilled Summer Salad
By
Paula Deen
JUMP TO RECIPE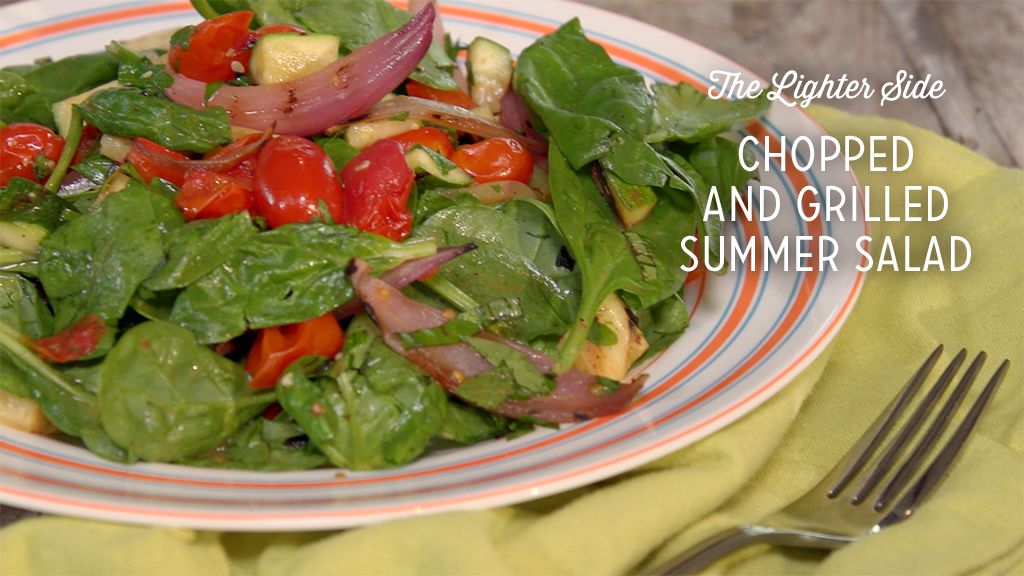 Difficulty: Easy
Prep time: 5 minutes
Cook time: 5 minutes
Servings: 5
Ingredients
1 (10 1/2 oz) container cherry tomatoes
1 small sliced lengthwise into 1/2-inch pieces zucchini
1 ribs removed, sliced into quarters red bell pepper
1 sliced banana pepper
1/2 medium sliced red onion
1 tablespoon olive oil
to taste kosher salt
freshly ground, to taste black pepper
3 handfuls spinach
1/4 cup roughly chopped fresh parsley
1/2 bunch basil
1 tablespoon balsamic vinegar
2 tablespoons red wine vinegar
Directions
Add the tomatoes, zucchini, onions and red and yellow bell peppers to a large grill pan and drizzle liberally with the olive oil. Sprinkle evenly with salt and pepper. Grill for about 5 minutes per side, or until nicely charred.
Remove the roasted vegetables to a cutting board and rest until cool enough to handle. Chop into bite-sized pieces.
Add the chopped vegetables, spinach, basil and parsley to a large bowl. Drizzle with the balsamic and a little olive oil, season with some salt and pepper and toss it all together.