Easy Grilled Baby Back Ribs
By
Deen Brothers
JUMP TO RECIPE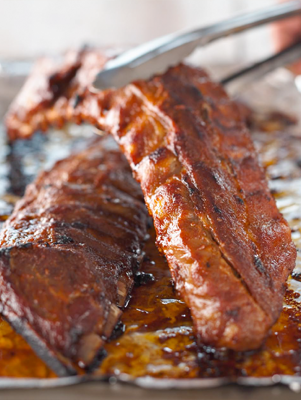 Difficulty: Medium
Prep time: 8 hours
Cook time: 70 minutes
Servings: 4
Ingredients
1 tablespoon freshly ground black pepper
1 tablespoon chili powder
2 tablespoons paprika
2 tablespoons dark brown sugar, packed
2 teaspoons garlic powder
3/4 teaspoon salt
2 racks baby back ribs (about 2 lbs)
Directions
In a small bowl, stir together all the ingredients except the ribs; set aside.
Using a sharp knife, cut and pull the membrane from the back of each rack of ribs. Using your fingers, rub the spice mixture over the ribs to coat evenly. Place each rack of ribs in a large resealable bag. Refrigerate overnight, turning bag occasionally. (If ribs will not fit in a bag, place on a baking sheet and wrap well with plastic wrap.)
Prepare grill for medium direct heat. Remove the ribs from the plastic bag and wrap each rack separately in a double layer of heavy-duty foil.
Grill, covered, for 25 minutes. Turn packets over; grill for 25 minutes more. Test for doneness by poking a fork between the bones; the meat should be very tender. If the ribs are not done, return to the grill and cook for 10 to 15 minutes more or until fork tender.
Carefully remove packets from the grill. Unwrap ribs and place them directly on grill; cook for 2 to 3 minutes per side or until crisp. Transfer ribs to a cutting board. Let stand for 10 minutes before cutting into individual ribs.