Baby Back Racks
By
Paula Deen
JUMP TO RECIPE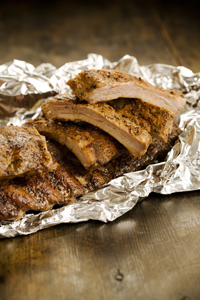 Difficulty: Easy
Prep time: 15 minutes
Cook time: 75 minutes
Servings: 6
Ingredients
cut into wedges lemon
2 racks (about 2 1/2 lbs) baby back ribs
1/2 cup steak sauce
1/2 cup or good dark beer bourbon
2 tablespoons Worcestershire sauce
1/4 cup packed dark brown sugar
1 teaspoon regular or grainy dijon mustard
2 pinches red pepper flakes
kosher salt
Directions
Preheat oven to 350 °F. Cut the racks of ribs in half crosswise. Rub the ribs, paying special attention to the meaty side, with 1/2 cup of the sauce. Lay the rib pieces meat side down in an 11 by 13-inch baking dish. The pieces will overlap slightly. Throw in some lemon wedges and rosemary sprigs.
Cover the dish tightly with aluminum foil and bake until the meat begins to pull away from the ends of the bones and the ribs are just tender, about 1 hour. You can bake the ribs up to a day before and keep them refrigerated. Bring refrigerated ribs to room temperature about 1 hour before you grill them.
Preheat an outdoor grill to medium-high heat. Grill the ribs, brushing them with about half the remaining sauce, until they're crispy and heated through, about 10 minutes. Move the ribs around as they grill, the sugar in barbecue sauce makes it easy for them to burn. Let the ribs rest for 5 to 10 minutes before cutting them into 1 or 2-bone pieces. Put out the rest of the sauce for dipping or brush it over the ribs.
Bourbon Barbecue Sauce:
Stir all ingredients together in a small bowl until sugar is dissolved. The sauce will keep in the refrigerator for up to 2 weeks.