Favorite Sausage-Potato Salad
By
Deen Brothers
JUMP TO RECIPE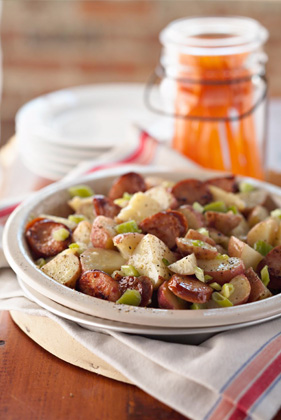 Featured in:
The Deen Bros. Y'all Come Eat
Difficulty: Easy
Servings: 4 to 6
Ingredients
1 pound red potatoes
2 teaspoons extra virgin olive oil
8 ounces kielbasa
1 stalk celery
2 green onions
1 1/2 tablespoons red wine vinegar
1 tablespoon Dijon mustard
1 clove garlic
1/4 teaspoon salt
1/4 teaspoon freshly ground black pepper
3 tablespoons extra virgin olive oil
Directions
Bring a large pot of water to a boil. Add the potatoes; boil about 25 minutes or until tender. Drain and let cool. Cut potatoes into quarters and place in a large bowl.
In a large skillet, heat the 2 teaspoons oil over medium-high heat. Brown the kielbasa. Transfer to a paper towel-lined plate to drain. Add kielbasa to the bowl with the potatoes.
For the dressing, in a small bowl, whisk together the vinegar, mustard, garlic, salt, and pepper. Slowly whisk in the 3 tablespoons oil. Add the dressing, celery, and green onions to the potato mixture and toss to combine. Serve warm or at room temperature.