London Broil
By
Paula Deen
JUMP TO RECIPE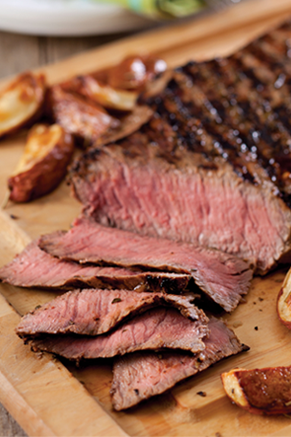 Difficulty: Easy
Prep time: 15 minutes
Cook time: 15 minutes
Servings: 15
Ingredients
1/3 cup fresh orange juice
1/4 cup minced fresh rosemary
1/4 cup olive oil
3 cloves minced garlic
1 teaspoon salt
1 teaspoon ground black pepper
2 lb London broil
Directions
1. In a large resealable plastic bag, combine orange juice, rosemary, olive oil, garlic, salt and pepper. Add London broil; seal bag, and refrigerate at least 4 hours or up to 24 hours.
2. Spray grill rack with nonstick nonflammable cooking spray. Preheat grill to medium-high heat (350 °F to 400 °F). Remove meat from bag, discarding marinade.
3. Grill meat, covered with grill lid, for 7 to 8 minutes per side or until a thermometer inserted in thickest portion registers 135 °F. Let stand for 10 minutes before slicing across the grain. Serve with Easy Roasted Potatoes.