Baked Crab Cakes
By
Deen Brothers
JUMP TO RECIPE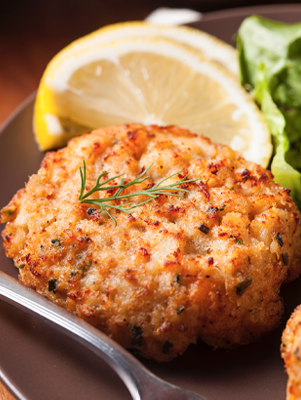 Difficulty: Easy
Prep time: 15 min
Cook time: 10 min
Servings: 12 servings
Ingredients
2 slices whole grain bread
1/4 cup skim milk
1 tablespoon light mayonnaise
1 teaspoon Dijon mustard
1 teaspoon Cajun seasoning
1 egg
Zest and juice of 1 lemon
1 pound jumbo lump crab meat
1 tablespoon chopped fresh chive
Directions
Preheat the oven to 375 degrees F.
Place the bread in a small bowl and pour over the milk. Combine the mayonnaise, mustard, Cajun seasoning, egg and lemon zest and juice in a large bowl and whisk together. Add the milk-soaked bread and whisk together again. Fold in the crab and chives.
Form the crab mixture into 12 equal cakes and place on a baking sheet. Bake for 8 to 10 minutes. Serve with lemon wedges.