Avocado Goat Cheese Dip with Whole-Wheat Pita Chip
By
Paula Deen
JUMP TO RECIPE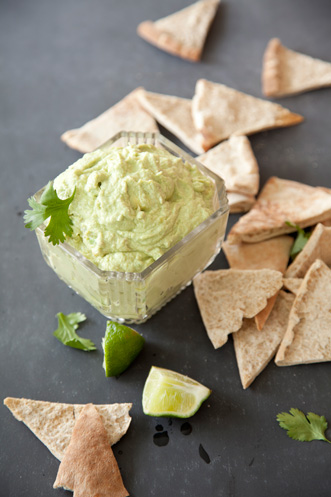 Difficulty: Easy
Prep time: 10 minutes
Cook time: 10 minutes
Servings: 10
Ingredients
1 package cut into 6 triangles each whole wheat pita chips
3 peeled, pitted and cut into chunks ripe avocados
2 cloves minced garlic
1/2 teaspoon ground cumin
1/4 teaspoon plus more if needed salt
3 tablespoons lime juice
4 oz cream cheese
4 oz goat cheese
Directions
Preheat oven to 350 °F.
Spread pita triangles on a sheet tray. Bake in the oven until crisp and slightly toasted. Chips will need to be rotated twice while baking.
In a bowl combine avocados, garlic, cumin and salt. Use an electric hand mixer to mix ingredients together. Add lime juice, cream cheese and goat cheese pulsing until smooth and blended well. Add a bit more salt, if necessary.
Makes 2 to 3 cups