Mexican Fiesta Casserole
By
Deen Brothers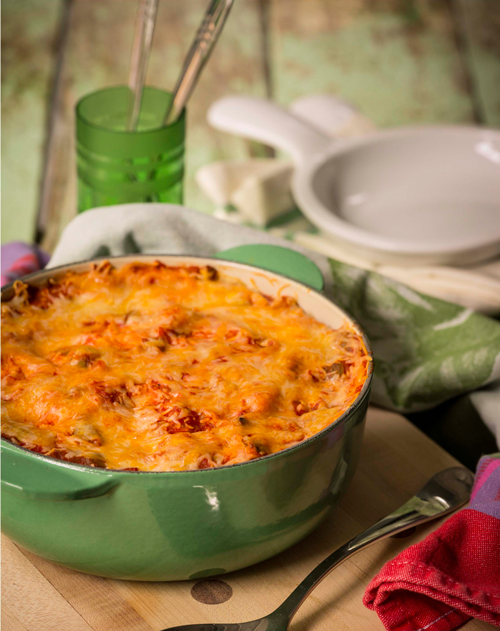 Ingredients
2 teaspoons canola oil
1/2 pound lean ground turkey
1 cup finely chopped onions
1 cup finely chopped zucchini
1 envelope 1 1/4 ounces low-sodium taco seasoning
2/3 cup frozen corn kernels
1 cup canned black beans
2 cups jarred salsa
8 6-inch corn tortillas
1 1/2 cups shredded reduced-fat Mexican cheese blend
1/4 cup sliced scallions white and light green parts only
1/2 cup fat-free sour cream or use low-fat; optional
Directions
1. Preheat the oven to 350°F. Spray a 9 by 13-inch baking dish with cooking spray.
2. In a large skillet, heat the oil over medium-high heat. Add the turkey and cook until browned, 5 to 7 minutes. Stir in the onions and zucchini and cook until tender, about 5 minutes. Stir in the taco seasoning, 2/3 cup water, and the corn. Simmer until thickened, about 2 minutes, then stir in the black beans.
3. Spread 1/2 cup of the salsa in the bottom of the baking dish. Lay 4 tortillas over the salsa, and spoon half of the meat mixture on top. Cover with 3/4 cup of the salsa and 1 cup of the shredded cheese. Top with 4 more tortillas and add the remaining meat mixture. Cover with the remaining 3/4 cup salsa. Scatter the remaining 1/2 cup shredded cheese over the top.
4. Bake the casserole until the cheese is melted and bubbling, about 25 minutes. Slice and serve, topped with scallions and sour cream.
Go Green
This is one of those dishes where you can sneak in your greens, making it great for kids. The zucchini in this casserole takes on all the great Mexican flavors so kids won't even know they're eating something that's good for them. I like to experiment with other vegetables too. Yellow squash, peas, and cut green beans are equally tasty in place of zucchini.