Sheet Tray Nachos
By
Paula Deen
JUMP TO RECIPE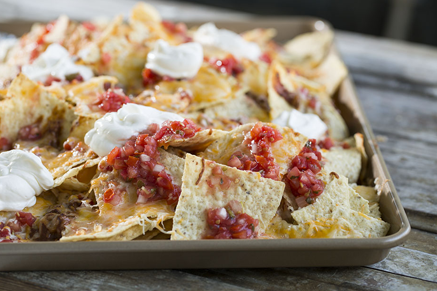 Difficulty: Easy
Prep time: 4 minutes
Cook time: 4 minutes
Servings: 4
Ingredients
1 bag tortilla chips
1 (15 oz) can meat chili
1 (16 oz) bag shredded Mexican blend cheese
1 jar chunky salsa
1 cup sour cream
Directions
Heat oven to 450 °F. Adjust rack to center of oven. Line a sheet tray with foil.
Heat chili in a pan until it is warm.
Spread a layer of tortilla chips on a sheet tray.
Spoon the chili over the chips.
Sprinkle cheese on top of chips and chili.
Heat in oven until cheese is melted, about 6 minutes. Garnish with sour cream and salsa.