Asparagus Quiche
By
Paula Deen
JUMP TO RECIPE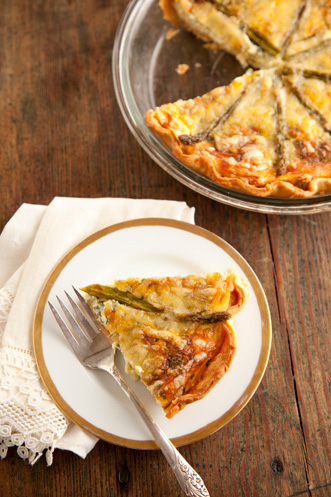 Difficulty: Medium
Prep time: 3 hours
Cook time: 30 minutes
Servings: 6 to 8
Ingredients
1 1/2 cups instant flour
1/2 cup cut into pieces unsalted cold butter
3 tablespoons vegetable shortening
1/3 cup ice water
1/2 teaspoon salt
3 large eggs
1 1/2 cups heavy cream
1/4 cup chopped fresh parsley
1/2 teaspoon white pepper
2 tablespoons for filling butter
7 to 8 stalks bottoms trimmed asparagus
1/2 cup grated Gruyere cheese
Directions
Put flour in a large bowl. Using 2 knives or a pastry cutter, cut the butter and vegetable shortening into the mixture until it resembles coarse meal. Add the ice water and salt to the mix until the dough comes together. Form the dough into a ball. Wrap in waxed paper and refrigerate for 2 hours.
Roll out the pastry on a floured surface; about 1/4-inch thick. Fit into a 9-inch quiche pan. Poke a few holes with a fork at the bottom of the dough. With the same fork press around the edges to finish. Refrigerate for 1 hour.
Preheat the oven to 425º.
Prick the bottom of the pie shell liberally with a fork. Place another small pan inside to help set the sides while baking, or place a sheet of foil in the shell and fill with beans, rice or pie weights. Bake for 7 to 8 minutes, until the pie shell begins to feel firm.
Filling:
Mix together eggs, heavy cream, parsley, salt and white pepper in a medium size bowl. Chill for at least 30 minutes. Pour 1/3 of the egg mixture into the partially baked quiche crust. Bake until the filling begins to set; about 10 minutes.
Melt butter in a medium size skillet over medium heat. Add the asparagus and cook until tender; about 4 to 6 minutes.
In the quiche pan arrange the asparagus like the spokes of a wheel. Pour the rest of the egg mixture over the asparagus. Sprinkle with Gruyere cheese Bake for about 30 minutes, until puffed and brown. Serve hot or at room temperature.
*Cook's Note: If edges of pie shell are looking dark, place foil over crust to reduce any further cooking.