Lighter Asparagus Quiche
By
Deen Brothers
JUMP TO RECIPE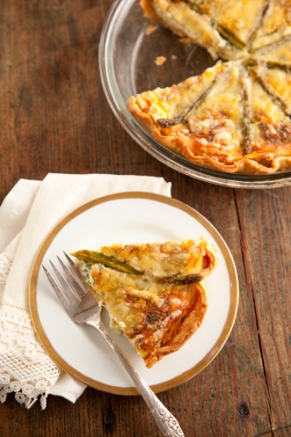 Difficulty: Medium
Prep time: 15 minutes
Cook time: 15 minutes
Servings: 15
Ingredients
1 1/4 cups all purpose flour
1/2 teaspoon plus 1/4 teaspoon salt
2 tablespoon cut into small pieces butter
2 tablespoons plus 2 teaspoons canola oil
2 to 3 tablespoons cold water
16 trimmed to 4-inch lengths asparagus spears
1 cup reduced-fat jarlsberg cheese
3 large eggs
3/4 2% cup low fat milk
1 pinch nutmeg
Directions
To make the crust, combine the flour and 1/2 teaspoon salt in a food processor; pulse until blended. Add the butter and 2 tablespoons oil and pulse until coarse crumbs form. Add the water through the feed tube, 1 tablespoon at a time, and pulse until a soft dough forms. Flatten the dough into a disk; wrap in plastic wrap and refrigerate at least 1 hour.
Preheat the oven to 425 °F.
On a lightly floured surface, roll out the dough to an 11-inch circle; ease the dough into a 9-inch pie plate, pressing evenly onto bottom and up sides of pan. Crimp the edges. Prick the bottom of the dough all over with fork.
Line the pie crust with foil or parchment paper; fill with pie weights or dried beans. Bake 15 minutes; remove the foil and weights. Return the crust to oven and bake until dough is lightly browned, 5 to 10 minutes longer. Cool the crust on a rack 10 minutes. Reduce the oven temperature to 350 °F.
Meanwhile, heat the remaining oil in a large nonstick skillet over medium-high heat. Add the asparagus and salt and cook, stirring occasionally, until the asparagus are tender, about 5 minutes. Arrange the asparagus spears, tips out, (like the spokes of a wheel) onto the crust. Sprinkle the cheese evenly over top.
Whisk together the eggs, milk and nutmeg in a medium bowl. Pour the egg mixture into the crust. Bake until the filling is set, 25-30 minutes. Transfer to a rack to cool 15 minutes. Serve warm or at room temperature.