Air Fryer Shepherd's Pie Stuffed Potatoes
By
Paula Deen
JUMP TO RECIPE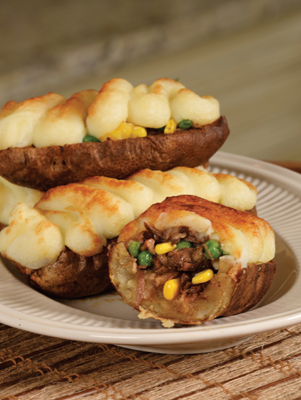 Featured in:
Paula Deen's Air Fryer Cookbook
Difficulty: Medium
Prep time: 20 minutes
Cook time: 50 minutes
Servings: 2
Ingredients
1 small onion, diced
1 tablespoon extra-virgin olive oil
2 tablespoons brown gravy mix
4 tablespoons water
1 cup cubed leftover roast beef
1 large russet potato
oil, for spraying
Paula Deen House Seasoning, to taste
¼ cup milk
2 tablespoons butter, room temperature
¼ teaspoon salt
¼ teaspoon black pepper
4 tablespoons canned corn (or peas)
2 tablespoons shredded cheddar cheese
Directions
In a skillet over medium heat, sauté onions in olive oil until slightly browned. Add gravy mix and water, mix well, and simmer until thickened. Add roast beef, cook for 1 minute, and set aside.
Spray potato with oil, sprinkle with House Seasoning, and place in air fryer basket. Set temperature to 350 degrees, and cook for 45 minutes. When cool, cut potato in half lengthwise and scoop out interior flesh into a medium bowl, leaving a ¼-inch shell.
To potato flesh, add milk, butter, salt, and black pepper. Using a hand mixer, blend until smooth. Divide roast beef mixture between each potato half, followed by 2 tablespoons corn in each. Spoon or pipe potato mixture into skins.
Sprinkle each potato half with Cheddar cheese and place in air fryer basket. Set temperature to 400 degrees, and air fry for 5 minutes, or until heated through and cheese is light brown. Serve warm.