Air Fryer Sesame Seed–Crusted Tuna Steaks
By
Paula Deen
JUMP TO RECIPE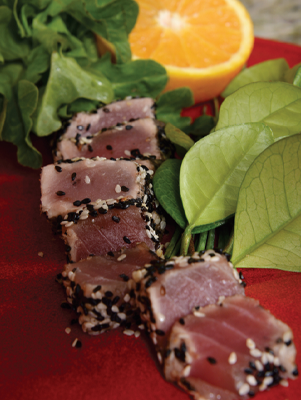 Featured in:
Paula Deen's Air Fryer Cookbook
Difficulty: Easy
Prep time: 15 minutes
Cook time: 6 minutes
Servings: 2
Ingredients
2 tablespoons soy sauce
3 tablespoons bourbon
¾ teaspoon black pepper
4 tablespoons olive oil
4 tablespoons sesame oil
2 tuna steaks (8 ounces each)
2 tablespoons honey
1 lime, juiced
1 cup sesame seeds
oil, for spraying
2 cups arugula
4 radishes, trimmed and sliced
½ cup sliced red onion
½ cup sliced red bell pepper
Directions
In a large bowl, whisk together soy sauce, bourbon, black pepper, 2 tablespoons of the olive oil, and 2 tablespoons of the sesame oil. Add tuna steaks and flip to coat both sides. Cover tightly with plastic wrap and marinate for 1 hour in refrigerator.
To make a honey dressing, in a small bowl, combine remaining olive oil, remaining sesame oil, honey, and lime juice; mix well.
Place sesame seeds in a shallow dish. Press both sides of marinated tuna steaks into sesame seeds, spray with oil, and place in air fryer basket. Set temperature to 400 degrees, and air fry for 6 minutes. Turn and spray tuna steaks with oil halfway through cooking.
Cut tuna steaks diagonally into ½-inch-thick slices. Divide arugula, radishes, red onion, and bell peppers between 2 salad plates, and place sliced tuna on top. Drizzle with honey dressing and serve.