Air Fryer Asian Whole Roasted Chicken
By
Paula Deen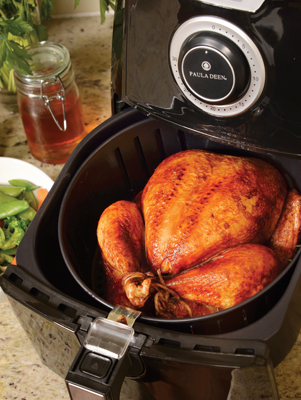 Prep time:

24 hours

Cook time: 60 minutes
Servings: 4 to 6
Ingredients
1 tablespoon brown sugar
3 tablespoons oyster sauce
1 tablespoon sesame oil
1 cup soy sauce
1 tablespoon cornstarch
¼ teaspoon black pepper
¼ teaspoon crushed red pepper flakes
1 whole chicken (3 to 4 pounds), washed and patted dry
oil, for spraying
Directions
In a small bowl, combine brown sugar, oyster sauce, sesame oil, soy sauce, cornstarch, black pepper, and red pepper flakes. Pour mixture into large ziplock bag. Add chicken and marinade for 24 hours. Turn occasionally.
Pat chicken dry, spray with oil, and place in air fryer basket, breast-side down. Set temperature to 350˚F, and cook for 30 minutes. Turn chicken, spray with oil, and cook for 30 minutes more, or until internal temperature on a meat thermometer reaches 165 degrees in the thickest part of the thigh. Carve and serve warm.
Cook's Note: For maximum flavor, marinade he chicken a day before you plan to cook it.