Air Fryer Avocado Egg Rolls
By
Paula Deen
JUMP TO RECIPE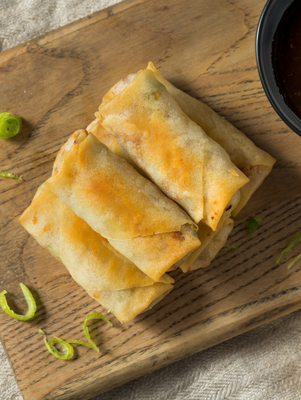 Featured in:
Paula Deen's Air Fryer Cookbook
Difficulty: Easy
Prep time: 30 minutes
Cook time: 32 minutes
Servings: 4
Ingredients
2 large avocados, seeded, peeled, and cut into ½-inch cubes
1 tablespoon lime juice
½ teaspoon Paula Deen House Seasoning
2 tablespoons minced red onion
⅛ teaspoon cayenne pepper
8 egg roll wrappers
oil, for spraying
salsa or favorite dip, for serving
Directions
In a medium bowl, combine avocado cubes, lime juice, Paula Deen House Seasoning, onion, and cayenne pepper. Gently mix to retain chunky texture.
Place one egg roll wrapper on a flat surface with one corner pointing toward you. Using a pastry brush, lightly brush corners with water. Spoon 2 tablespoons avocado mixture into center of egg roll wrapper. Fold bottom corner of wrapper over filling. Fold left and right corners over filling. Tightly roll filled end toward remaining corner, pressing gently to seal. Repeat with remaining egg roll wrappers.
Working in batches of 4, spray each egg roll with oil and place in air fryer basket. Set temperature to 400 degrees, and air fry for 8 minutes. Turn and spray with oil halfway through cooking. Repeat with remaining egg rolls. Serve warm with salsa or your favorite dip.