Air Fryer Chicken Stuffed with Prosciutto and Fontina
By
Paula Deen
JUMP TO RECIPE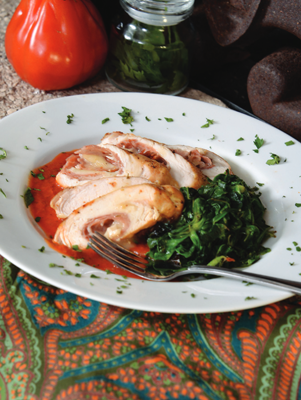 Featured in:
Paula Deen's Air Fryer Cookbook
Difficulty: Medium
Prep time: 15 minutes
Cook time: 25 minutes
Servings: 2
Ingredients
2 skinless boneless chicken breast halves
4 ounces fontina cheese, rind removed, cut into 2-inch sticks
2 slices prosciutto
salt, to taste
freshly ground black pepper, to taste
4 tablespoons unsalted butter
2 tablespoons extra-virgin olive oil
1 cup portobello mushrooms, sliced
1/2 cup dry white wine
3 sprigs rosemary
1 bunch baby arugula
1/2 lemon, juiced
Directions
Place chicken breast halves between sheets of wax paper, and using a mallet or rolling pin, pound thin.
Wrap each fontina cheese stick with one slice prosciutto and place in center of each flattened chicken breast half. Roll chicken around prosciutto and cheese and secure with toothpicks or butcher's twine. Season chicken rolls with salt and black pepper.
In a heavy skillet, heat 2 tablespoons of the butter and 1 tablespoon of the olive oil. Quickly brown chicken rolls over medium heat, 2 to 3 minutes per side. Place chicken rolls in air fryer basket. Set air fryer temperature to 350 degrees, and air fry for 7 minutes. Remove chicken rolls to a cutting board and let rest for 5 minutes. Cut rolls at an angle into 6 slices.
Reheat skillet, add remaining butter, mushrooms, wine, and rosemary; season with salt and black pepper; and simmer for 10 minutes.
In a large bowl, toss arugula leaves in remaining olive oil, lemon juice, salt, and pepper. To serve, arrange chicken and mushrooms on bed of dressed arugula.