Yellow Summer Squash Soup With Sage And Thyme
By
Damon Lee Fowler
JUMP TO RECIPE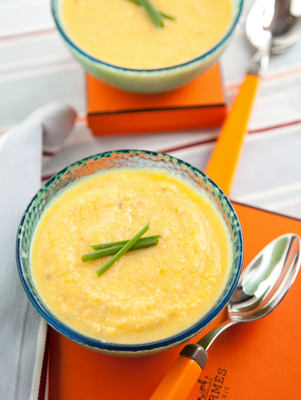 Difficulty: Medium
Prep time: 25 minutes
Cook time: 40 minutes
Servings: 4
Ingredients
1 pound yellow crookneck squash
1 medium leek
1 large yellow onion, peeled and sliced thin
2 tablespoons unsalted butter
1 cup homemade chicken broth or ½ cup canned broth mixed with ½ cup water
1 bouquet garni made with a sprig each of thyme, parsley, and sage
salt
white pepper
2 cups half-and-half
¼ cup heavy cream (optional)
4-5 fresh sage leaves, thinly sliced, or 1 tablespoon chopped fresh chives
Directions
Scrub the squash under cold running water, trim the blossom and stem ends, and slice crosswise into ½-inch-thick rounds. Split the leek lengthwise and wash it well under running water to remove the dirt from between the leaves. Remove and reserve the green tops and slice the white part.
Put the sliced leek, onion, and butter in a 4-quart pot over medium heat. Sauté until softened, but not browned, about 5 minutes. Add the squash and toss until hot. Add the broth, bouquet garni, a pinch or so of salt, and liberal grinding of white pepper. Raise the heat to medium high, bring to a boil, and reduce the heat to low. Cover and simmer until the vegetables are tender, about 20 minutes. Turn off the heat.
Remove and discard the bouquet garni. Take up and reserve a cup of solids. Puree the remainder with a hand blender, food processor, or blender. Return it to the pot. Thinly slice the inner pale leek greens. Roughly chop the reserved solids and add them with the leek greens to the puree. Bring back to a simmer over medium heat and simmer until greens are tender, about 5 minutes. The soup can be made ahead: pour it into a bowl set in a basin of ice water and stir until cold; cover and refrigerate.
To serve hot, heat it gently over medium-low heat, stirring occasionally to prevent scorching, then add the half and half and heat it through. Taste and correct the seasonings. Ladle the soup into heated soup plates. Garnish with a drizzle of cream and a sprinkling of the fresh sage or chives.
To serve it cold, after chilling add the half and half, then taste and correct the seasonings. Garnish as you would the hot soup, or whip the cream until it forms soft peaks, put a dollop on each serving, and sprinkle with the chopped herbs and white pepper.