Whole-Wheat Cinnamon Chocolate Pancakes
By
Deen Brothers
JUMP TO RECIPE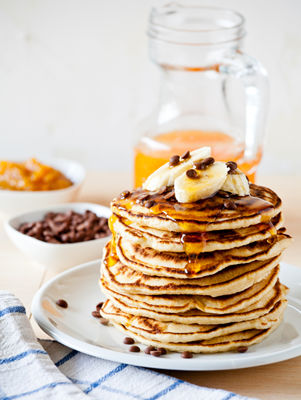 Difficulty: Easy
Prep time: 15 min
Cook time: 20 min
Servings: 10 servings
Ingredients
3/4 cup all-purpose flour
1/2 cup whole-wheat flour
3 tablespoons sugar
2 teaspoons baking powder
1/4 teaspoon ground cinnamon
1 cup low-fat 1-percent milk
2 tablespoons canola oil
2 large eggs
1/3 cup miniature cinnamon and chocolate morsels
Nonstick cooking spray
1 medium banana
1/2 cup plus 2 teaspoons 100-percent maple syrup
Directions
Preheat the oven to 350 degrees F.
Mix together the flours, sugar, baking powder and cinnamon in a large bowl.
Mix together the milk, oil and egg yolks in a small bowl, and then add to the flour mixture and stir until smooth.
Beat the egg whites in a small bowl on medium-high speed with an electric mixer until stiff. Gently fold into the batter, and then gently fold in the cinnamon and chocolate morsels.
Spray a griddle with nonstick cooking spray and heat until hot. Ladle about 1/4 cup batter per pancake onto the hot griddle and cook until the tops are covered with bubbles and the edges look cooked, 2 to 3 minutes. Flip and cook the other side. Repeat with the remaining batter.
Top each pancake with 2 to 3 slices of banana and top with 2 teaspoons maple syrup.