Whole Scored Fried Flounder With Sweet Peach and Hot Pepper Jelly Sauce
By
Paula Deen
JUMP TO RECIPE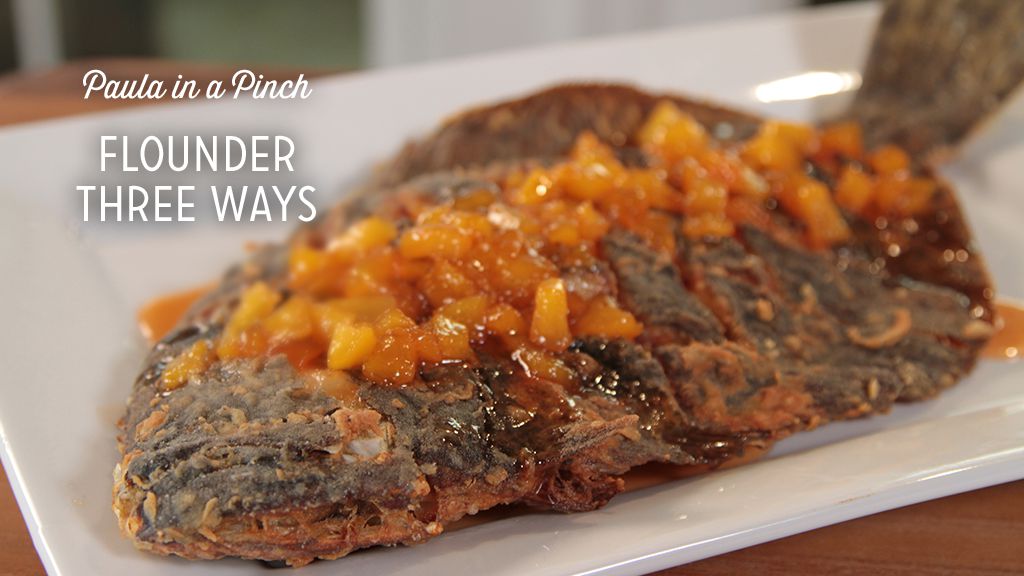 Difficulty: Easy
Prep time: 10 minutes
Cook time: 10 minutes
Servings: 4
Ingredients
1 whole flounder
1/2 cup milk
1/2 cup flour
to taste salt
to taste pepper
3 tablespoons melted butter
2 tablespoons brandy
1 peeled and chopped peach
1/2 cup red pepper jelly
Directions
Preheat a cast iron pot filled halfway with vegetable oil to 375 °F.
Using a sharp knife, score the skin of the flounder, making a cross-hatch pattern. Place the scored fish in a shallow casserole dish, cover with milk and season with salt and pepper.
In a separate casserole dish add the flour and season with salt and pepper. Dredge the flounder in the flour, then immediately dip the fish into the fryer and let cook for 5-6 minutes.
Melt butter in a small saucepot over medium-high heat. Add the brandy, the peach and red pepper jelly, simmer for 3 minutes or until thickened. Remove flounder from oil and place onto a platter. Serve with the sweet peach and hot pepper jelly sauce.