Chicken Cacciatore With Fatback
By
Paula Deen
JUMP TO RECIPE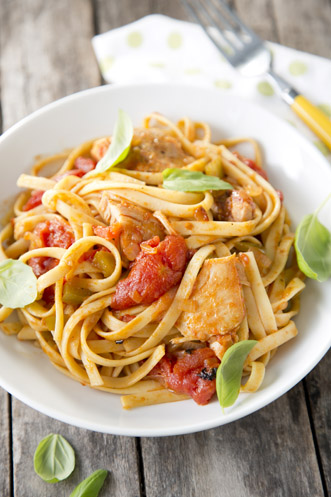 Difficulty: Easy
Prep time: 20 minutes
Cook time: 20 minutes
Servings: 20
Ingredients
12 oz scored, optional fatback
5 cloves 2 chopped, 3 mashed, divided garlic
1 diced green bell pepper
1 diced, divided in half onion
2 lb boneless chicken thighs
1 (16 oz) package cooked and kept warm linguine
1/4 cup olive oil
1 (35 oz) can whole peeled tomatoes
salt
ground black pepper
dried oregano
6 torn fresh basil leaves
Directions
Add the fatback to a skillet and heat over medium-high heat. Add the garlic, bell peppers and onions to the skillet. Cook until tender, about 6 minutes, stirring frequently. Add the chicken and cook until browned, about 4 minutes per side. Remove the chicken to a plate.
Add Frank's Marinara Sauce, stirring to combine. Return the chicken to the skillet and simmer for 20 minutes, stirring occasionally. Serve over the linguine.
Frank's Marinara Sauce:
In heavy pot, heat the oil. Then add the fatback (if using) and garlic and sauté until golden brown. Remove the fatback, then add the onions and sauté until soft, 2 to 3 minutes.
Add the tomatoes (crush by hand into the pot). Bring to a boil, add salt to taste, reduce to a simmer and cook for 10 to 15 minutes. Add salt, pepper and oregano to taste.
After finished, turn off the heat and add the basil.