White Chocolate Lemon Trifle
By
Paula Deen
JUMP TO RECIPE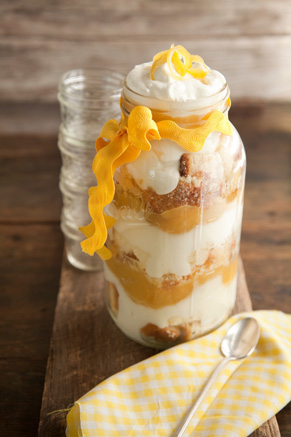 Difficulty: Easy
Prep time: 20 minutes
Cook time: 15 minutes
Servings: 12
Ingredients
1 10 oz. jar lemon curd
1 3.3 oz prepared box white chocolate pudding
2 1/2 cups divided freshly whipped cream
2 loaves prepapred cubed pound cake
1 washed well lemon
2 1/2 cups divided sugar
water
Directions
Start Candied Lemon Peel first by using a vegetable peeler to remove the peel from the lemon. Being sure to avoid as much of the white pith as possible. Cut strips into thinner strips. Save lemon for another use.
In a small saucepan place the peels and 2 cups water. Bring to a boil. Drain off water and repeat the process two more times for a total of three. Remove peels from the pan.
To the same pan over medium high heat, add two cups water and two cups sugar. Whisk until sugar is dissolved. Add peels back into pan and bring mixture to a boil. Reduce heat to low and continue to cook until the peels are tender and translucent (approximately 10 minutes). Remove peels from mixture and allow to cool.
In a medium mixing bowl add remaining ½ cup sugar and add lemon peels. Toss to coat. Remove peels and shake off any excess sugar. Store in an airtight container for up to 3 weeks.
For Trifle:
In a large mixing bowl, fold 2 cups prepared whipped cream into prepared white chocolate pudding. Set aside.
To assemble trifle, layer cubed pound cake on the bottom of the trifle bowl. Top with a layer of white chocolate pudding mixture and then a layer of lemon curd. Repeat until your trifle bowl is nearly filled. Top with reserved ½ cup whipped cream and candied lemon peels. Best when served immediately or can be refrigerated until ready to serve.