Oh-My-Clementine White Chocolate Pudding Shortcakes
By
Paula Deen
JUMP TO RECIPE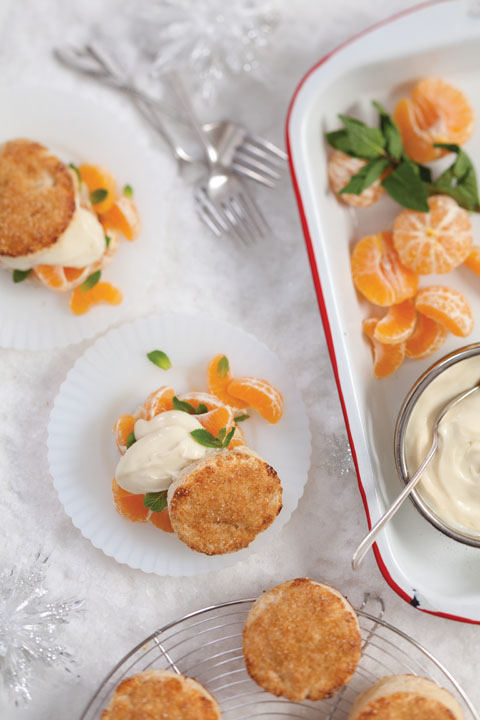 Difficulty: Easy
Prep time: 10 minutes
Cook time: 10 minutes
Servings: 10
Ingredients
3 4-inch divided sprigs fresh mint
1 1/4 cups milk
3/4 cup heavy whipping cream
3 (4-inch) springs divided fresh mint
2 tablespoons cornstarch
2 tablespoons divided sugar
6 peeled and separated into segments clementines or tangerines
1/2 teaspoon salt
1 (4 oz) finely chopped white chocolate baking bar
6 split basic shortcakes
6 (or tangerines) peeled and separated into segments clementines
1 tablespoon lemon juice
6 split shortcakes
Directions
1. In a small saucepan, combine milk, cream and 1 mint sprig. Bring to a simmer, stirring often. Remove from heat; cover and let steep for 10 minutes. Strain mixture, discarding solids; cool to room temperature.
2. In a small saucepan, whisk together cornstarch, 1 tablespoon sugar and salt. Gradually whisk in milk mixture. Bring to a boil over medium heat, stirring often. Boil, stirring constantly, for 2 minutes or until thickened. Remove from heat, and gradually add chopped white chocolate, whisking until smooth. Spoon into a bowl; place plastic wrap directly on surface of pudding. Chill for at least 2 hours or until ready to serve.
3. In a small bowl, stir together clementine segments, lemon juice, remaining 1 tablespoon sugar and leaves from remaining mint sprigs. Divide clementine mixture among bottom halves of shortcakes. Top with pudding and top halves of shortcakes. Serve immediately.