Warm Mexican Crab Dip
By
Paula Deen
JUMP TO RECIPE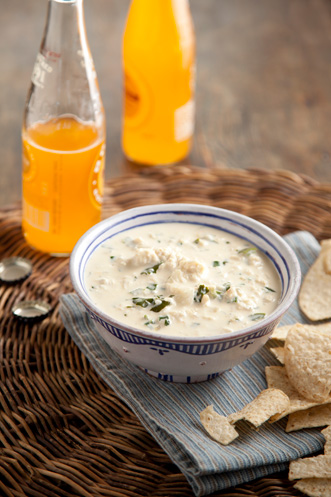 Difficulty: Medium
Prep time: 20 minutes
Cook time: 30 minutes
Servings: 20
Ingredients
1 tablespoon olive oil
1/2 cup onion, finely chopped
1 clove garlic, minced
2 tablespoons jalapeño, seeded and chopped, plus slices for garnish (optional)
1/2 cup light beer
2 cups heavy whipping cream
1 (8 oz) package cream cheese
1 (8 oz) block cheese product
1 lb lump crabmeat, drained and picked for shells
1/4 cup fresh lime juice (about 2 limes)
1/4 cup green onion, minced
1/4 cup fresh cilantro, minced
1 teaspoon chili powder
1 teaspoon salt
1/4 teaspoon cayenne pepper
1/4 teaspoon ground cumin
6 10-inch flour tortillas
oil
Directions
In a 4-quart saucepan, heat olive oil over medium heat. Add the onion, jalapeño pepper and garlic and cook stirring frequently, for 3 minutes. Stir in the beer and cook until the liquid is reduced by half. Stir in the cream, cream cheese, and processed cheese, whisking until melted and smooth.
Stir in crabmeat, lime juice, green onion, cilantro and chili powder and simmer for 15 minutes. Add the salt, black pepper, cayenne, and cumin. Transfer the dip to a serving bowl and garnish with sliced jalapeño pepper, if desired. Serve hot with tortilla chips.
Tortilla Chips:
In a deep-fryer or heavy-bottomed pot, heat enough oil to come halfway up the sides of the pot, to 375º.
Cut the tortillas into triangles. Fry them, in batches, until golden, about 2 minutes. Remove the tortillas from the oil to paper towels to drain. Sprinkle with salt, to taste, and serve.