Bobby's Hot Tomato, Jack and Crab Dip
By
Bobby Deen
JUMP TO RECIPE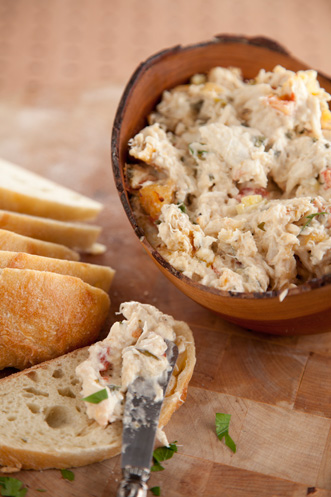 Difficulty: Easy
Prep time: 15 minutes
Cook time: 30 minutes
Servings: 8
Ingredients
1 (8 oz) package softened cream cheese
1 cup (4 oz) grated pepper Jack cheese
1/2 cup mayonnaise
2 juiced limes
1 teaspoon Paula Deen Hot Sauce
1 lb well drained and picked clean of shells lump crabmeat
2 medium (1 cup), seeded and diced tomatoes
1/4 cup white and light green parts green onions
1/4 cup chopped fresh basil
2 cloves finely chopped garlic
1/4 teaspoon salt
1/2 teaspoon crushed black peppercorns
2 avocados
non-stick spray
Directions
Preheat the oven to 350 °F. Spray a 1-quart baking dish with nonstick spray.
In a large bowl, mix together the cream cheese, pepper Jack, mayonnaise, lime juice and hot sauce until smooth. Fold in the crabmeat, tomatoes, green onions, basil, garlic, salt and pepper.
Smooth the mixture into baking dish. Bake until golden and bubbly, about 30 minutes.
Split, pit, peel and dice the avocados and sprinkle them over the crab dip after it has cooled slightly. Serve warm with crackers or crusty bread.