Bobby's Lighter Fried Green Tomatoes
By
Bobby Deen
JUMP TO RECIPE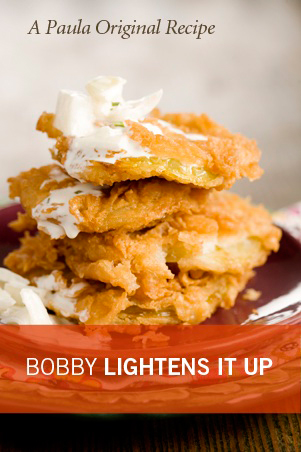 Difficulty: Easy
Prep time: 10 minutes
Cook time: 10 minutes
Servings: 10
Ingredients
1/2 cup low-fat buttermilk
1 egg white
10 drops (about 1/2 teaspoon) hot sauce
1 cup cornmeal
3/4 teaspoon salt
1 tablespoon canola oil
3 large cut into 1/4 inch-think slices, (about 1 1/2 lbs) green tomatoes
Directions
Preheat oven to 450º F. Spray a large cookie sheet with nonstick spray.
Combine buttermilk, egg white and hot sauce in a medium bowl. Mix cornmeal and salt in a pie dish. Dip the tomato slices into the buttermilk mixture, then into the cornmeal, gently turning to coat.
Heat 1 1/2 teaspoons oil in a large nonstick skillet over medium-high heat. Add half the tomato slices in a single layer and cook until browned on one side, 3 – 4 minutes.
Transfer the slices, browned-side up, to the cookie sheet. Lightly spray the tomatoes with nonstick spray. Bake until the tomatoes are golden brown on both sides, about 8 minutes. Wipe the skillet clean and repeat with the remaining oil, and tomato slices.
Serve hot.