Vidalia Onion Dip
By
Paula Deen
JUMP TO RECIPE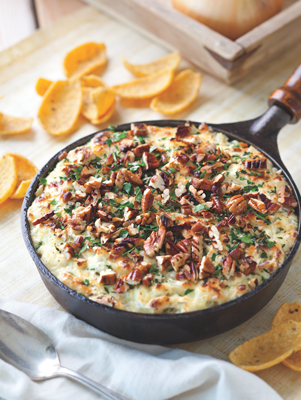 Featured in:
At the Southern Table
Get your copy of At the Southern Table with Paula Deen here.
Difficulty: Easy
Prep time: 25 minutes
Cook time: 25 minutes
Servings: 6 cups
Ingredients
2 tablespoons butter
4 cups chopped Vidalia onion
2 cloves garlic , minced
2 (8-ounce) packages cream cheese , softened
1 (8-ounce) package Monterey Jack cheese , shredded
1 (6-ounce) package shredded Parmesan cheese
1/2 cup mayonnaise
3 tablespoons chopped fresh parsley
2 tablespoons Dijon mustard
1 cup chopped pecans
Garnish: chopped fresh parsley
Directions
Preheat oven to 350°. Spray a 1½-quart baking dish with cooking spray.
In a large skillet, melt butter over medium heat. Add onion and garlic; cook, stirring occasionally, until onion is tender and lightly browned, about 15 minutes.
In a large bowl, stir together cream cheese, cheeses, mayonnaise, parsley, and mustard until well combined; stir in onions. Spoon mixture into prepared pan, and sprinkle with pecans.
Bake until hot and bubbly, about 25 minutes. Garnish with parsley, if desired.