Vanilla Wafer Cake
By
Paula Deen
JUMP TO RECIPE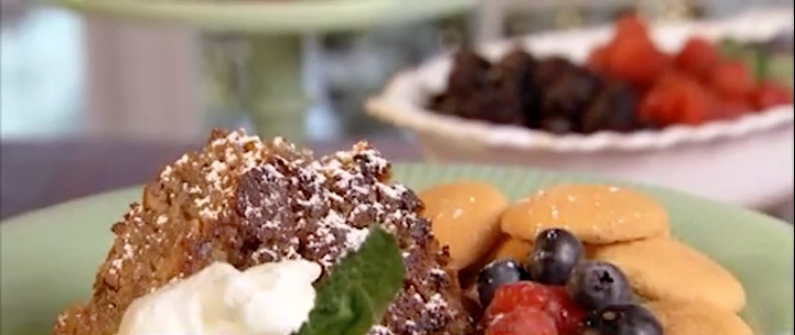 Difficulty: Easy
Prep time: 30 minutes
Cook time: 60 minutes
Servings: 10
Ingredients
6 eggs
2 cups sugar
1 (12 oz) box vanilla wafers, crushed
1 cup sweetened flaked coconut
1 cup chopped pecans, or your favorite nut
1/2 cup milk
butter, for greasing pan
flour, for dusting pan
Directions
Cook's Note: An easy way to crush your vanilla wafers is to place half of the box at a time in a gallon zipper-seal bag and roll over them with a rolling pin or glass, then repeat with the other half.
Preheat the oven to 350 degrees F and grease and flour a tube or Bundt pan.
In a large bowl, beat the eggs well. Mix the sugar, vanilla wafers, coconut, pecans and milk into the eggs.
Pour the mixture into the tube or Bundt pan. Bake until a toothpick inserted in the center comes out clean, about 1 hour. Let sit in the pan for 10 minutes, and then turn out onto a plate. Allow to cool completely.
If desired, heat 1 tablespoon butter in a small sauté pan. Cut a 1-inch slice of cake, butter both sides and toast in the butter. Add a dollop of whipped cream and serve with berries. Drizzle with caramel sauce. Repeat with remaining cake slices.