Lighter Gooey Chocolate Butter Cake Ice Cream
By
Deen Brothers
JUMP TO RECIPE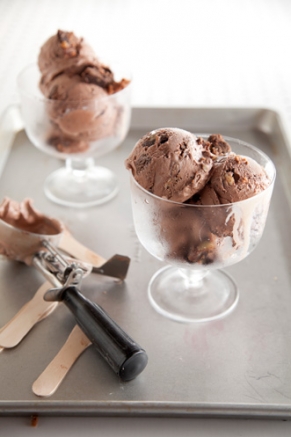 Difficulty: Easy
Ingredients
1 (18.25 oz) package dark chocolate cake mix
2 large egg whites
1/2 cup (1 stick) melted butter
1 (8 oz) package at room temperature fat free cream cheese
3/4 cup confectioner's sugar
3/4 cup confectioner' sugar
3 tablespoons unsweetened cocoa powder
1 teaspoon vanilla extract
1/2 cup finely chopped pecans
1/2 cup finely chopped pecans
5 (about 1/2 cup) coarsely crushed chocolate wafer cookies
1 (1.5-quart) softened low-fat chocolate ice cream
Directions
Preheat the oven to 350° F. Line an 9 x 13-inch baking pan with foil, allowing the foil to extend over the rim of the pan by 2 inches. Spray the foil with nonstick spray.
Pulse the cake mix, 1 egg white, and all but 2 tablespoons of the melted butter in a food processor until crumbly. Transfer the mixture to the baking pan, pressing firmly to form an even layer.
Combine the cream cheese, confectioners' sugar, cocoa powder, vanilla, the remaining egg white, and the remaining 2 tablespoons of melted butter in a large bowl until blended and smooth. Spread the cream cheese mixture evenly over the cake mixture. Bake until the top just begins to set, about 30 minutes. Do not overbake. Transfer to a wire rack to cool completely. Lift out using the foil as handles. Cut the cake into 1/2-inch cubes.
Transfer 2 cups of the cake cubes to a medium bowl. Add the pecans and crushed cookies until well mixed. Set the topping aside.
Line the same baking pan with 2 overlapping sheets of plastic wrap, allowing a 4-inch overhang on all sides. Place the softened ice cream in a large bowl; stir until the ice cream is smooth. Add the cake pieces until well combined. Scrape the mixture into the pan. Scatter the topping evenly over the ice cream mixture. Cover completely with the plastic overhang and freeze until firm, at least 6 hours or overnight.