Vanilla and Peppercorn-Crusted Rack of Lamb With Vanilla Bean Butter Sauce
By
Paula Deen
JUMP TO RECIPE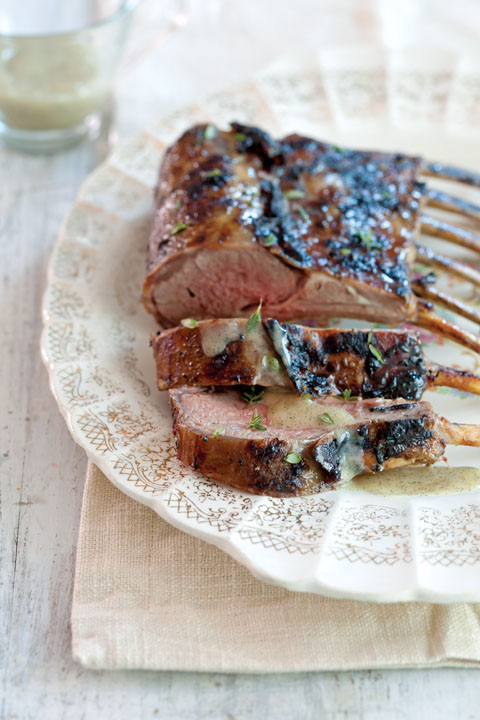 Difficulty: Easy
Prep time: 260 minutes
Cook time: 15 minutes
Servings: 8
Ingredients
Vanilla and Peppercorn-Crusted Rack of Lamb
1 tablespoon fresh thyme leaves
2 teaspoons vanilla bean paste
3/4 teaspoon pink peppercorns
1/4 teaspoon salt
1 (8 oz) frenched rack of lamb
Vanilla Bean Butter Sauce
1/2 cup butter, cut into small pieces and divided
1 small shallot, finely chopped (about 2 tablespoons)
1 1/2 cups dry white wine, like chardonnay
2 vanilla beans, split lengthwise
Directions
Vanilla and Peppercorn-Crusted Rack of Lamb
In a small bowl, combine thyme, vanilla bean paste, crushed peppercorns, and salt. Rub mixture over lamb, and refrigerate, tightly covered, for at least 4 hours or up to overnight.
Preheat grill to medium-high heat (350°F to 400°F). Grill lamb 7 minutes per side or until desired degree of doneness.
Vanilla Bean Butter Sauce
In a large skillet, melt 2 teaspoons butter over medium-high heat. Add shallot, and cook until shallot just begins to brown. Add wine, and scrape seeds from vanilla beans into pan; cook until liquid is reduced to ¼ cup. Remove pan from heat, and whisk in remaining butter, one piece at a time, until butter is fully incorporated and sauce has thickened. Strain sauce through a fine mesh sieve, and serve immediately with lamb.