Peanut Butter and Banana Stuffed French Toast
By
Paula Deen
JUMP TO RECIPE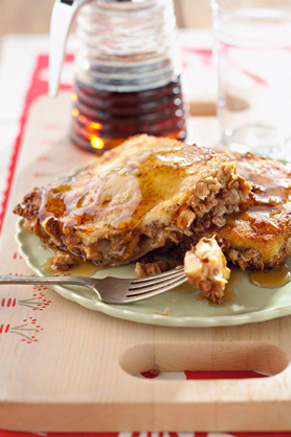 Difficulty: Easy
Prep time: 20 minutes
Cook time: 20 minutes
Servings: 20
Ingredients
1/4 teaspoon ground cinnamon
1/2 teaspoon vanilla
1 1/4 teaspoons sugar
2 large eggs
1/2 cup whole milk
1 peeled and thinly sliced banana
2 teaspoons honey
1/4 cup peanut butter
8 slices white bread
1/2 cup granola
1 1/2 tablespoons unsalted butter
maple syrup
Directions
Preheat oven to 350 °F. Place the granola in a shallow bowl; set aside.
Spread each slice of bread with peanut butter. Drizzle honey evenly over peanut butter. Divide the banana slices among four slices of the bread; top with the remaining bread, peanut butter sides down. Remove the crusts and tightly pinch the edges of each sandwich together to seal.
In a medium bowl, whisk together the milk, eggs, sugar, vanilla and cinnamon. Soak each sandwich in the egg mixture for 5 seconds. Roll the edges of each sandwich in granola.
In a large skillet, heat the butter over medium-high heat. Add the sandwiches, working in batches if necessary; cook about 2 minutes per side or until golden. Transfer the sandwiches to a baking sheet; bake for 10 minutes. Serve immediately with maple syrup.