Never Fail Chocolate Souffle
By
Paula Deen
JUMP TO RECIPE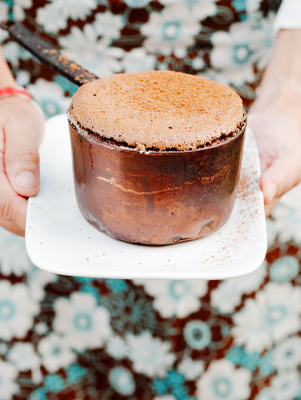 Difficulty: Medium
Prep time: 20 minutes
Cook time: 15 minutes
Servings: 6
Ingredients
1/3 cup granulated sugar, plus 3 tablespoons for sprinkling
5 oz quality bittersweet chocolate, finely chopped
3 large egg yolks, room temperature
6 large egg whites, room temperature
1 pinch of salt
3 tablespoons butter, softened
1 tablespoon cocoa powder
Directions
Preheat oven to 375 °F. Liberally butter 6 individual souffle ramekins and sprinkle with sugar; set aside.
In a metal bowl over simmering water, melt chocolate whilst constantly stirring. Once the chocolate is melted, remove the bowl from the heat and stir in the egg yolks one at a time.
In the bowl of a standing mixer, beat egg whites with salt on medium high speed until they hold soft glossy peaks. Continue beating egg whites on high speed, gradually adding the remaining 1/3 cup sugar, until the egg whites hold stiff glossy peaks.
Gently stir 1/3 of the eggs whites into the chocolate mixture. Carefully fold in the remaining egg whites. The chocolate mixture should be full of bubbles, even colored and without egg white streaks.
Spoon your souffle mixture into the prepared ramekins and bake for 12-15 minutes until risen with a crusty exterior. Dust with cocoa powder and serve right away.