Ultra Creamy Mac and Cheese Casserole
By
Deen Brothers
JUMP TO RECIPE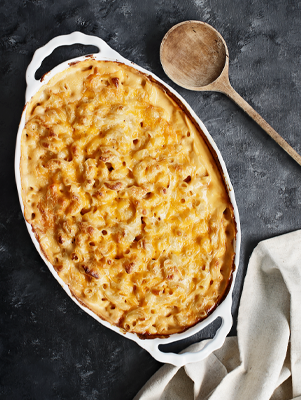 Featured in:
The Deen Bros. Y'all Come Eat
Difficulty: Easy
Prep time: 15 minutes
Cook time: 60 minutes
Servings: 8
Ingredients
1/4 cup unsalted butter
plus additional for coating dish
2 cups uncooked elbow macaroni
8 ounces cheddar cheese
8 ounces American cheese
4 ounces cream cheese
1 cup half-and-half
4 large eggs
1/2 cup sour cream
1/2 teaspoon salt
1/4 teaspoon cayenne pepper (optional)
Freshly ground black pepper
Directions
Preheat oven to 350°F. Butter a 13×9-inch baking dish; set aside.
In a large pot of water, cook the macaroni according to package directions; drain. Return the macaroni to the pot. Add the cheeses to the hot macaroni and stir well; spread in the prepared dish.
In a medium bowl, whisk together the 1/4 cup butter, the half-and-half, eggs, sour cream, salt, cayenne pepper (if using), and black pepper. Pour over the macaroni. Bake, uncovered, for 40 to 45 minutes or until golden brown and bubbling. Let stand for 10 minutes before serving.