Sweet Dessert Panini
By
Paula Deen
JUMP TO RECIPE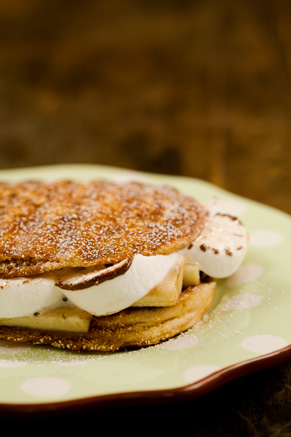 Difficulty: Easy
Prep time: 10 minutes
Cook time: 10 minutes
Servings: 10
Ingredients
1 cup hazelnut spread
8 slices cut 1/2 inch thick white bread
2 sliced lengthwise bananas
16 cut in halves marshmallows
softened butter
for dusting powdered sugar
Directions
Preheat the grill to medium-low.
Heat hazelnut spread, so that it lightly coats the back of a spoon. Spread all slices of bread with a thin layer of hazelnut spread. Apply banana slices to 4 pieces of bread and marshmallows to the remaining 4 pieces. Take 1 slice of bread with banana, and 1 with marshmallows and press them together, making a sandwich. Repeat. Apply a light layer of butter to each side of the sandwiches.
Place each sandwich on the pre-heated grill for 2 minutes per side. Once cooked, cut each sandwich in half on the diagonal. Put sandwiches on a platter and dust with powdered sugar.