Brandied Cherry Cupcakes
By
Stefani Pollack
JUMP TO RECIPE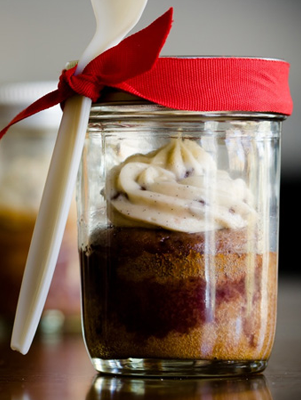 Difficulty: Medium
Prep time: 30 minutes
Cook time: 25 minutes
Servings: 18
Ingredients
Brandied Cherry Syrup
2 (15-ounce) cans of cherries in heavy syrup
½ cup brandy
Brandied Cherry Cupcakes
2 cups all-purpose flour
1½ teaspoons baking powder
½ teaspoon baking soda
¾ cup unsalted butter, room temperature
⅓ cup sugar
⅓ cup honey
2 eggs
⅔ cup milk
brandied cherry syrup, from above
brandied cherries, from above
18 half-pint mason jars
Frosting
1 cup unsalted butter, room temperature
3 cups powdered sugar
4 teaspoons vanilla bean paste
2 tablespoons milk
¾ cup mini chocolate chips
Directions
Brandied Cherry Syrup
Combine ingredients in a medium-sized saucepan. Bring to a boil and then reduce heat to medium-low. Simmer for fifteen minutes.
Use a sieve to strain out the cherries.  Reserve both the syrup and cherries.
Brandied Cherry Cupcakes
Preheat oven to 350˚ F.
In a medium-sized mixing bowl, whisk flour, baking powder, and baking soda.
In another medium-sized bowl, beat butter, sugar, and honey until well combined. Beat eggs and milk into the butter mixture. Alternately fold the flour mixture and ⅔ cup of the cherry syrup into the wet ingredients. Fold in all of the brandied cherries.
Scoop ¼ cup of batter into each mason jar. Carefully place the jars in a roasting pan and pour enough hot water up the sides of the pan to ½". Bake for 25 minutes or until a toothpick comes out dry.
Remove from oven and pour 1 tablespoon of cherry syrup into each jar.  The cupcake will absorb the syrup.
Note: Cupcakes should be eaten within two days of baking.
Frosting
Mix butter and powdered sugar until light and fluffy. Mix in vanilla bean paste and milk until fully combined. Fold in chocolate chips. Pipe onto cooled cupcakes.
Seal the jars.