Chocolate Covered Cherries
By
Paula Deen
JUMP TO RECIPE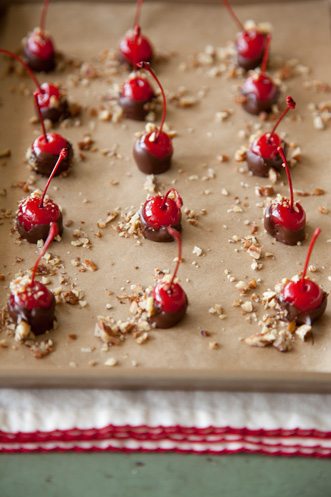 Difficulty: Easy
Prep time: 40 minutes
Cook time: 10 minutes
Servings: 4-6
Ingredients
1 jar maraschino cherries
6 oz chopped semisweet chocolate
1 cup finely chopped pecans
Directions
Drain the cherries and pat them completely dry.
Put the semisweet chocolate into a heatproof medium bowl. Put the bowl over a pot of simmering water. Do not let the bowl touch the water. Turn off the heat and stir until the chocolate is melted and smooth. Remove the bowl from the heat. Line a sheet pan with parchment or waxed paper.
Holding the cherry by the stem, dip the bottom half of each cherry in the melted chocolate. Twist the cherry so that the chocolate forms a "tail" at the end. Set the cherry on the parchment paper.
Repeat with the remaining cherries. Sprinkle with finely chopped pecans. Allow to cool or eat them right away.