Stuffed French Toast Cupcakes
By
Stefani Pollack
JUMP TO RECIPE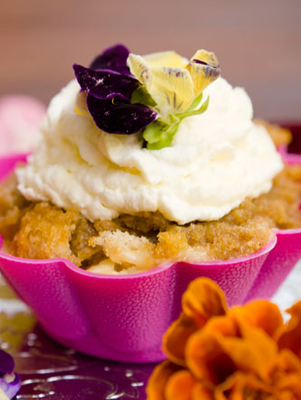 Difficulty: Medium
Prep time: 40 minutes
Cook time: 35 minutes
Servings: 14
Ingredients
Peach Filling
9 ounces chopped firm fresh peaches
⅓ cup brown sugar
3 ounces mascarpone cheese, room temperature
Cupcakes
½ cup sugar
¼ cup unsalted butter, room temperature
1 tablespoon water
3 eggs
½ cup whole milk
2 teaspoons vanilla extract
1 teaspoon cinnamon
4 packed cups small cubes of soft bread
fresh whipped cream, optional
edible flowers, optional
Directions
Peach Filling
In small pot on medium heat, add peaches and brown sugar.
Cook for 15 minutes, stirring regularly.  The peaches should be coated in melted brown sugar and a lot of their liquid will have cooked off.
Remove from the heat and mix in the mascarpone.
Cupcakes
Preheat oven to 350˚ F.
In a small pot on medium-low heat, heat sugar and butter until melted.
Add water and continue cooking, stirring periodically, until sauce becomes thick and foamy. Remove from heat.
In a large mixing bowl, beat eggs, milk, vanilla, and cinnamon.
Once the sugar mixture is cool to the touch, add to the mixing bowl and completely combine.
Add bread to the mixing bowl, making sure that it is submerged in the egg mixture. Let the bread rest for 15 minutes to absorb the liquid.
Spray cupcake liners with non-stick baking spray (or use silicone liners).
Press a small layer of bread into the bottom of a liner. Scoop peach filling on top of the bread, filling almost to the top of the liner. Press another small layer of bread on top of the peach filling. Continue to fill the remaining liners as indicated above until all of the liners are full.
Bake for 20 minutes and serve warm, optionally topped with whipped cream and edible flowers.