Air Fryer Peaches and Cream-Stuffed French Toast
By
Paula Deen
JUMP TO RECIPE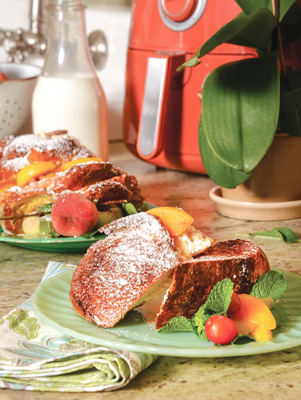 Featured in:
Paula Deen's Air Fryer Cookbook
Difficulty: Easy
Prep time: 15 minutes
Cook time: 20 minutes
Servings: 2
Ingredients
4 ounces whipped cream cheese
1 teaspoon sugar
½ teaspoon fresh lemon juice
4 large eggs
½ cup milk
¼ teaspoon ground cinnamon
4 slices challah bread, 2 inches thick
12 fresh peach slices (or frozen, thawed)
oil, for spraying
¼ cup powdered sugar, for dusting
Directions
To make filling, in a small bowl, combine cream cheese, sugar, and lemon juice; set aside. In a medium shallow bowl, beat eggs, then stir in milk and cinnamon. Place bread slices in egg mixture and soak for 5 minutes, turning once.
Cut a slit in top crust of each bread slice. Using a spoon, stuff each slice with one-quarter of the cream-cheese filling and 3 peach slices.
Working in batches of 2, spray stuffed bread slices with oil and place in air fryer basket. Set temperature to 350 degrees, and air fry for 10 minutes. Turn halfway through cooking. Repeat with remaining sandwiches. Dust with powdered sugar and serve warm.