Strawberry Swirl Pound Cake
By
Paula Deen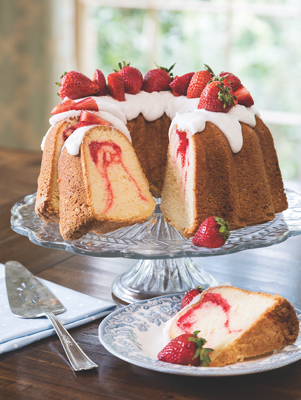 Prep time:

20 minutes

Cook time: 70 minutes
Servings: 12
Ingredients
1 cup unsalted butter
1 (8-ounce) package cream cheese, softened
3 cups granulated sugar
4 large eggs, room temperature
1 teaspoon almond extract
½ teaspoon vanilla extract
4 cups all-purpose flour
1 tablespoon baking powder
½ cup plus 2 tablespoons whole buttermilk, divided
⅔ cup prepared strawberry glaze
2 cups confectioners' sugar
fresh strawberries, for garnish
Directions
Preheat oven to 325°. Spray a 15-cup Bundt pan with baking spray with flour.
In the bowl of a stand mixer fitted with the paddle attachment, beat butter, cream cheese, and granulated sugar at medium speed until fluffy, 4 to 5 minutes, stopping to scrape sides of bowl. Add eggs, one at a time, beating just until combined after each addition. Beat in extracts.
In a large bowl, whisk together flour and baking powder. With mixer on low speed, gradually add flour mixture to butter mixture alternately with ½ cup buttermilk, beginning and ending with flour mixture, beating just until combined after each addition.
Pour one-third of batter into prepared pan. Dollop 8 rounded teaspoonfuls strawberry glaze onto batter, and swirl together with a wooden skewer. Repeat batter and glaze procedure once; top with remaining batter.
Bake until a wooden pick inserted near center comes out clean, about 70 minutes. Let cool in pan on a wire rack for 15 minutes. Remove from pan, and let cool completely on a wire rack.
In a small bowl, whisk together confectioners' sugar and remaining 2 tablespoons buttermilk until smooth; drizzle onto cooled cake. Garnish with strawberries, if desired. Cover and refrigerate for up to 3 days.
Baking Tip: You can find strawberry glaze in the produce section of grocery stores. It's similar in consistency to lemon curd.