Spiced Cranberry Pecan Bars
By
Paula Deen
JUMP TO RECIPE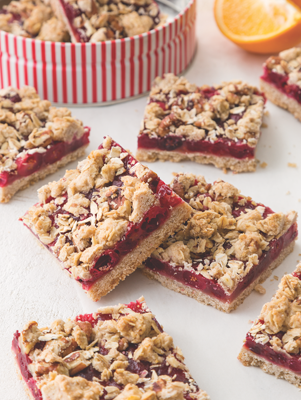 Featured in:
Paula Deen's Southern Baking
Difficulty: Hard
Prep time: 30 minutes
Cook time: 50 minutes
Servings: 24
Ingredients
2½ cups all-purpose flour
½ cup sugar
1½ teaspoons apple pie spice
¾ teaspoon baking powder
½ teaspoon ground ginger
½ teaspoon kosher salt
1 cup cold unsalted butter, cubed
1 large egg
Filling
5 cups fresh cranberries, divided
¾ cup sugar
½ cup applesauce
½ cup maple syrup
2 tablespoons orange zest
2 tablespoons fresh orange juice
¼ teaspoon kosher salt
1½ tablespoons cornstarch
1½ tablespoons water
Topping
½ cup chopped pecans
½ cup old-fashioned oats
Directions
Crust
Preheat oven to 350°. Line a 13×9-inch baking dish with parchment paper, letting excess extend over sides of pan.
In a large bowl, whisk together flour, sugar, pie spice, baking powder, ginger, and salt. Add cold butter, and beat with a mixer at medium speed until crumbly. Add egg, beating until combined. Reserve 1 cup mixture for topping; press remaining mixture into bottom of prepared pan.
Bake until lightly golden, about 18 minutes.
Filling
In a large saucepan, bring 3 cups cranberries, sugar, applesauce, maple syrup, orange zest and juice, and salt to a boil over medium-high heat. Cook, stirring constantly, until cranberries begin to burst. Reduce heat to low, and simmer, stirring occasionally, for 10 minutes.
In a small bowl, whisk together cornstarch and 1½ tablespoons water; stir into cranberry mixture, and cook until thickened, about 2 minutes. Remove from heat; fold in remaining 2 cups cranberries. Spread mixture in an even layer onto prepared crust.
Topping
In a small bowl, combine pecans, oats, and reserved 1 cup crust mixture. Sprinkle onto filling.
Bake until topping is golden and filling is bubbly, about 30 minutes. Let cool completely on a wire rack. Using excess parchment as handles, remove from pan, and cut into bars. Store in an airtight container for up to 3 days.