Chocolate Chip Brownie Bars
By
Paula Deen
JUMP TO RECIPE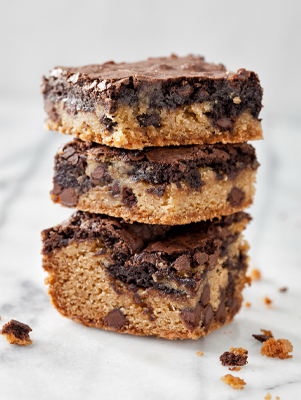 Difficulty: Easy
Prep time: 5 hours 20 minutes
Cook time: 40 minutes
Servings: 24 bars
Ingredients
1 cup softened butter
1 1/2 cups firmly packed brown sugar
4 large eggs
2 cups all purpose flour
1 teaspoon baking soda
1/2 teaspoon salt
1 cup semisweet chocolate morsels
1 (18.4 oz) box brownie mix
1/3 cup vegetable oil
Directions
Preheat the oven to 350 °F. Line a 13-by-9-inch baking pan with heavy-duty aluminum foil with a 2-inch overhang. Spray with nonstick cooking spray.
In a large bowl, beat the butter and brown sugar at medium-high speed with a mixer until fluffy. Add 2 eggs, beating until well blended. In a medium bowl, combine the flour, baking soda and salt. Gradually add the flour mixture to the butter mixture, beating until the mixture forms a soft dough. Stir in the chocolate morsels.
In another large bowl, combine the brownie mix, oil, 1/4 cup water and remaining 2 eggs, beating until well blended.
Spread the the cookie dough in prepared pan. Pour the brownie mixture over the dough. Using a knife, swirl the mixtures together. Bake until the edges start to pull away from sides of the pan, 40 minutes. Let cool in the pan for 1 hour. Cover and refrigerate for 4 hours. Cut into bars.