Brownie Raspberry Trifle
By
Paula Deen
JUMP TO RECIPE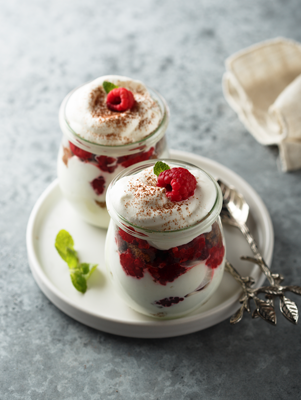 Difficulty: Easy
Prep time: 10 minutes
Cook time: 30 minutes
Servings: 4 to 6
Ingredients
3 cups heavy cream
3 tablespoons instant vanilla pudding mix
1 tablespoon confectioner's sugar
2 teaspoons pure vanilla extract
3/4 cup divided raspberry jam
3 thinly sliced, divided medium bananas
1 2 sticks plus 2 tablespoons unsalted butter
3 oz chopped unsweetened chocolate
1/2 cup plus 1 tablespoon unsweetened cocoa powder
2 1/2 cups granulated sugar
3 large at room temperature eggs
1 tablespoon vanilla extract
1 1/2 cups all purpose flour
1/2 teaspoon salt
Directions
Cut the Brownie Cake into 1/2-inch chunks, about 4 cups. Set aside.
Using an electric mixer, whip the cream, pudding mix, confectioners' sugar, and vanilla until stiff peaks form.
In a large bowl, place 1 cup of the whipped cream mixture. Cover with one-third of the brownies in a single layer. Top with 4 tablespoons of the raspberry jam, then one-third of the sliced bananas. Repeat with 2 more layers of each ingredient, ending with sliced bananas. Finish off by topping it all with the remaining whipped cream mixture. Chill in the refrigerator for 30 minutes and up to 8 hours before serving.
Brownie Cake:
Preheat the oven to 350 degrees F. Prepare an 8 by 8-inch square baking dish with nonstick cooking spray.
In a double boiler, or a microwave set on low power, melt the butter and chocolate, stirring frequently. Transfer the chocolate mixture to a large bowl and let cool. Whisk in the cocoa until smooth. Whisk in the granulated sugar. Whisk in the eggs and vanilla. Fold in the flour and salt until just blended.
Pour the batter into the prepared pan. Bake until the brownies are slightly overdone (they should be gooey inside), 20 to 25 minutes. Let cool in the pan on a wire rack for 5 minutes.