Southern Potatoes Gratiné
By
Paula Deen
JUMP TO RECIPE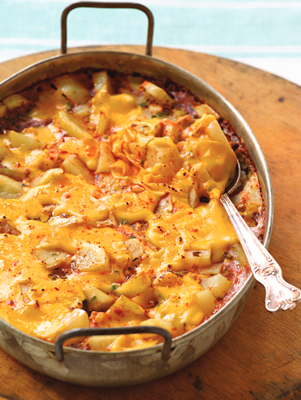 Featured in:
Paula Deen Cuts the Fat
Difficulty: Medium
Prep time: 10 minutes
Cook time: 35 minutes
Servings: 8
Ingredients
2 pounds russet potatoes or Idaho potatoes (about 3 medium potatoes), scrubbed
1 cup chopped scallions (white and light green parts)
¾ cup milk
½ cup low-sodium chicken broth
1 tablespoon all-purpose flour
2 teaspoons Cajun seasoning
salt, to taste
4 ounces Velveeta, cut into ½-inch cubes
¼ teaspoon sweet paprika
Directions
Preheat the oven to 375˚F.
Slice the potatoes lengthwise into quarters, then cut crosswise into ¼-inch pieces.
In a 12 by 8-inch broiler-proof baking dish, toss the potatoes and the scallions together. In a small bowl, whisk together the milk, chicken broth, flour, and Cajun seasoning and add some salt, if you think it needs it. Pour the milk mixture over the potatoes, cover the dish with aluminum foil, and bake for 30 minutes, until the potatoes are tender.
Position an oven rack 4 to 6 inches from the heat. Preheat the broiler to high.
Remove the foil from the baking dish and top the potatoes with the Velveeta and paprika. Broil for 2 to 3 minutes, until browned and bubbly.